ISPS Journal
April 27, 2023
2023-09-11 9:44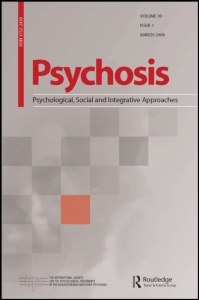 Psychosis: Psychological, Social and Integrative Approaches
Publishing since: 2009
Publication frequency: 4 issues per year
The 2022 Impact Factor for Psychosis: Psychological, Social and Integrative Approaches, is 1.2. It has been consistent since 2020 (Copyright © 2019 Clarivate Analytics) and the journal is now ranked as follows in Clarivate Analytics' subject categories:
– Psychology, Clinical = 111/131
– Psychiatry = 128/144
Psychosis is currently abstracted and indexed in:
– Social Sciences Citation Index (SSCI)
– EMCARE
– PsycINFO
– Scopus
The ISPS Journal Psychosis accepts personal and institutional subscriptions. All Individual Members of ISPS International and local ISPS group members receive the journal as a membership benefit.
Psychosis postcard
See the Psychosis homepage for more information and to view a sample issue www.tandfonline.com/loi/rpsy20
To submit a paper, please use the Submission Portal.
Sign up for content alerts here.
ISPS members can also access to all issues of Psychosis (current and past issues). To obtain this membership benefit e-mail ISPS.
Is your University, hospital or other employer subscribing to the journal? This is important not only to get our message across but because ISPS receives a share of the income from these subscriptions.
Books in the ISPS series can be ordered here.
ISPS members receive a 20% discount when ordering online through Routledge.