The David B. Feinsilver Award
December 21, 2022
2023-04-27 7:28
The David B. Feinsilver Award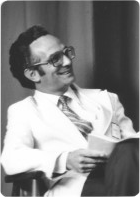 The David B. Feinsilver Award
The David B. Feinsilver Award: A scholarship to fund travel expenses to the ISPS Congress
David B. Feinsilver, M.D. was a long-time staff member at the Chestnut Lodge Hospital in Rockville, Maryland, U.S.A, where he chaired its Symposium Committee. A former president of ISPS, the chair of its 1994 meeting in Washington, and the founder of ISPS-US, he established a fund before he died after a long illness.  This fund grants a scholarship to fund travel expenses to each ISPS International congress, for the best research or clinical paper on the psychotherapeutic treatment of the severely disturbed.
Applications for the 2024 David B. Feinsilver Award will open when registration for ISPS 2024 opens. More news coming soon.

If you are interested in applying for this grant you must indicate so during the ISPS 2024 congress abstract submission process. Applications will only be considered from people who cannot afford to attend the congress without financial support. The award will be given to the best research or clinical paper by a newcomer, who cannot otherwise afford to attend the congress.
Winner of the 2022 Award 
Jason Haitana from New Zealand
Jason will be giving the presentation "Te reo orooro: an indigenous maori perspective on hearing voices" at the 22nd International Congress of the ISPS in Perugia this summer.
Past Winners
Arpita Gupta, India (2019)
Noel Hunter, USA (2017)
Pankaj Suneja, India (2015)
Renana Elran, Israel (2013)
Debra Lampshire, New Zealand (2011)
Ishita Sanyal, Kolkata, India (2009)
Konstantia Zgantzouri, Crete, Greece (2006)
For futher information e-mail isps@isps.org
Contributions to the David Feinsilver fund may be sent to the Community Foundation for the National Capital Region: CFNCR – Feinsilver Fund: 1112 16th Street NW, Suite 340; Washington, DC 20036.