Toxic Interactions and the Social Geography of Psychosis: Reflections on the Epidemiology of Mental Disorder
September 10, 2023
2023-09-11 9:41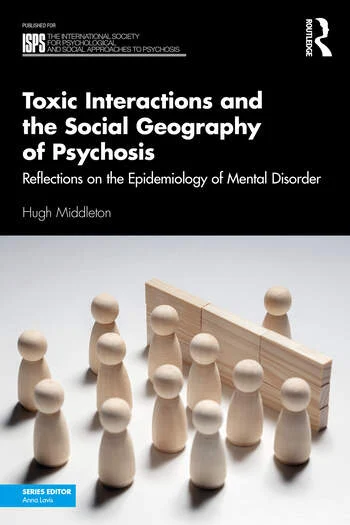 Toxic Interactions is a review of quantitative research revealing how urban living, trauma, ethnicity, stress and familial influence the risk of troubling psychotic experiences.
Each of these is reviewed in search of their social implications, and a constructivist approach identifies their common threads. The contributions of newer psychotherapeutic approaches such as Open Dialogue and Recovery programmes are considered, and a consistent interpretation emerges; that is not the observable features of disturbed mental state that deserve key attention, but how these are generally understood by others, and in particular the 'client's' close associates.
Toxic Interactions and the Social Geography of Psychosis will be welcomed by all who find conventional approaches to mental health difficulties unsatisfactory, whether that is as a practitioner frustrated by the counter-productive expectations of their institutional setting, an academic exploring different perspectives a 'service user' disappointed by not experiencing the care they feel is needed, or as third party perplexed by the contradictions of contemporary psychiatry.
Toxic Interactions and the Social Geography of Psychosis: Reflections on the Epidemiology of Mental Disorder
September 10, 2023
2023-09-11 9:41