Open Dialogue for Psychosis
July 30, 2021
2023-05-03 13:09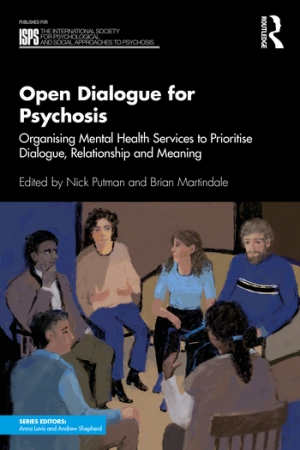 This highly readable book provides a comprehensive examination of the use of Open Dialogue as a treatment for psychosis. It presents the basic principles and practice of Open Dialogue, explains the training needed to practice and explores how it is being developed internationally.
Open Dialogue for Psychosis includes first-hand accounts of the process by people receiving services due to having psychotic experiences, their family members and professionals who work with them. It explains how aspects of Open Dialogue have been introduced in services around the world, its overlap with and differentiation from other psychological approaches and its potential integration with biological and pharmacological considerations. The book concludes with a substantive section on the research available and its limitations.
Open Dialogue for Psychosis will be a key text for clinicians and administrators interested in this unique approach, particularly those who recognise that services need to change for the better and are seeking guidance on how this can be achieved. It will also be suitable for people who have experienced psychosis and members of their families and networks.
Open Dialogue for Psychosis
July 30, 2021
2023-05-03 13:09